Henry Miller and The Henry Miller Library
A Souvenir Booklet
6 x 9 inches, 72 pages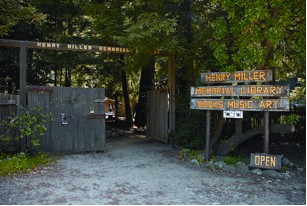 This brand-new booklet from Roger Jackson, Publisher, contains a collection of one hundred of Miller's best quotes. The 36 full color photographs by Mark Jackson illustrate The Henry Miller Library and the Big Sur, California coastline, where Miller lived between 1944 and 1962.
The booklet contains background information on The Henry Miller Library, founded by Emil White just a year after Miller's death in 1981. Information on the status of the library, its mission statement, and archival projects are provided in the booklet, along with a biographical sketch of Miller and a bibliography of his major works.
It is priced at $10, including postage.
Interested parties should send mail orders to:
Dr. James M. Decker
807 E. Jefferson St.
Washington, IL 61571
USA
You may also send an e-mail to nexusjournal@hotmail.com requesting an order.
Paypal purchases can occur by following the link below:
Shipping in
North America:
10 USD

International
Shipping:
12 USD
A detailed listing of the Table of Contents is as follows:
Editor's Note

iv
A Note from the Henry Miller Library

Magnus Torén

7

Henry Miller Quotes

9-44
Henry Miller Library Profile

Magnus Torén

47

About the Henry Miller Library

47

Library History and Purpose

48

Henry Miller in Big Sur

49

Emil White, Library Founder

51

Library Mission Statement

53

The Library Today

53

People and Organizations Served

54

Hours, Address, Directions

55
Henry Miller Library Archive Project

Keely Richter

55

Henry Miller Biography

57

Bibliography of Major Works

60